SILENT OS
A foundation built on privacy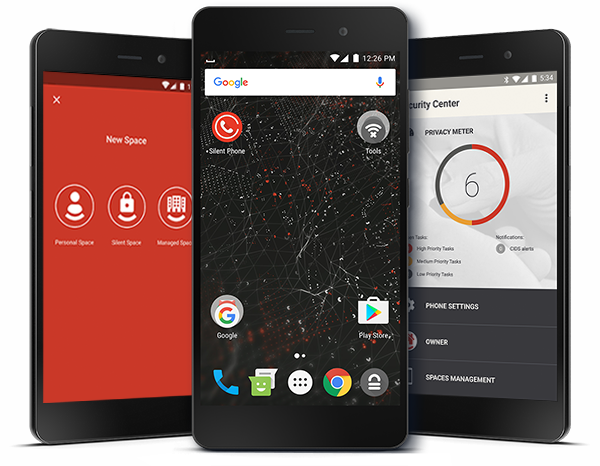 Silent OS is an Android-based operating system, enhanced to address mobile privacy concerns facing enterprises today. Free of bloatware, hooks to carriers, and leaky data, Silent OS puts privacy in the hands of you and your enterprise, without compromising productivity.
Spaces
Spaces creates multiple, separate virtual phones on one device, enabling work life and personal life to stay securely compartmentalized. No data is shared between spaces.
• Create up to four separate spaces
that act like virtual phones
• Keep your apps and data secure
• Customize each space any way you like
ENTERPRISE SPACES
Enterprise spaces are set and controlled by the enterprise, not the end user,
enabling user satisfaction while reinforcing enterprise security needs and policies.
Security Center
At the heart of Silent OS, Security Center puts privacy settings at the user's fingertips.
• Easily configure settings for individual spaces
• Manage which apps live in each space
• Fine tune individual app permissions so that the user decides the level of data access each app receives
Best in class vulnerability management
Silent OS has the world's fastest vulnerability management. Critical vulnerabilities are patched within 72 hours of detection or reporting, and updates come directly from Silent Circle, with no carrier delays or waiting periods.
Integrate with your current MDM
Get your enterprise up and running easily. Blackphone integrates with popular
MDM systems and the Android for Work Program.

Make your enterprise more private
Talk to our sales team and find out how Silent Circle can help keep your enterprise data private in today's mobile-first world.