Security Center: Remote Wipe
Silent OS offers a Remote Wipe feature that lets you remotely erase the contents of your device if it is lost or stolen. To be able to use Remote Wipe, you must first set it up via Security Center. (if you have not yet configured Remote Wipe, you may notice that Privacy Meter shows an alert, suggesting you set it up).
To start, in the Security Center, tap on "Phone Settings," and then "Remote Wipe."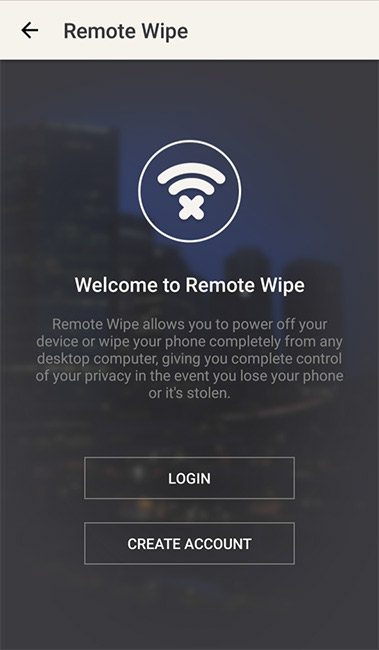 First of all, you'll need to create an account for the Silent Circle Remote Wipe portal. This is a website you access to begin the process of remotely wiping your phone if it is lost or stolen. To do so, tap in the "CREATE ACCOUNT" button an choose a username and a password. (If you already have an account, you don't need to create a new one. Just tap in the "LOGIN" button and enter you credentials)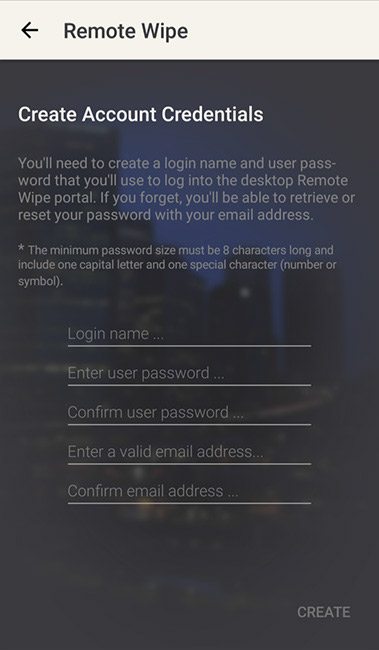 Notice that the minimum password size must be 8 characters long and include at least one capital letter and one special character (number or symbol).
In next step, you will be asked to enter a name and create a secret key for this specific Blackphone (think of this key as a code that identifies you as the owner of the device. Note that this password cannot be retrieved or reset — if you forget it, the only way to set a new password is with a full factory reset of the phone!). When you log in later to the Remote Wipe portal, if you have more than one Silent Circle device, you can select the device you want to wipe using the name you chose here.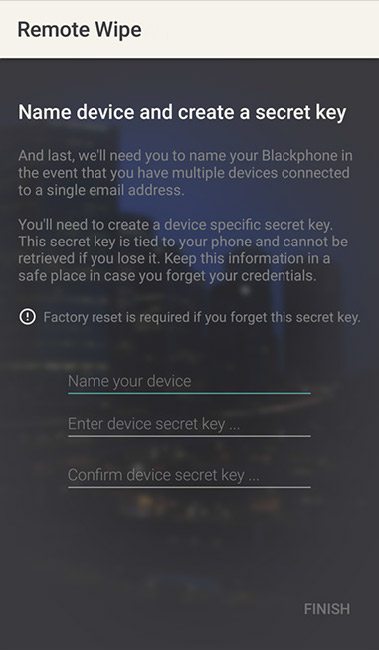 Your device can now be wiped remotely if it is lost or stolen. Just visit
manage.blackphone.ch
and log in with your Remote Wipe portal credentials, then select the device you want to wipe or power off.
You may also choose to set up additional options: the Remote Wipe portal supports performing a full wipe of the device or turning it off.
After you've registered, the alert to set up Remote Wipe will disappear from the Privacy Meter. You can re-access and change your device-specific secret key, or access your current list of devices, via the standalone Remote Wipe app.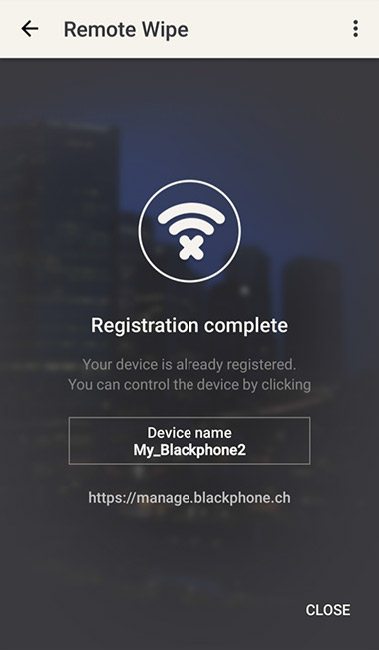 Important notes and common questions:
Blackphone 2's internal storage is encrypted by default, providing protection for data at rest. Remote Wipe begins by overwriting the decryption key, then overwrites all of the encrypted data itself.
Remote Wipe will NOT destroy the contents of your microSD card (external storage) if you are using one. It will securely erase the contents of the phone's internal storage.
Remote Wipe works using a data connection. If your phone is turned off or is not connected to the Internet (via mobile or Wi-Fi), Remote Wipe will not work until a connection is established.