Creating a Space On Your Blackphone 2
To create a new space on your Blackphone 2, you'll use the Blackphone Security Center. Tap the plus sign in the bottom right of the screen.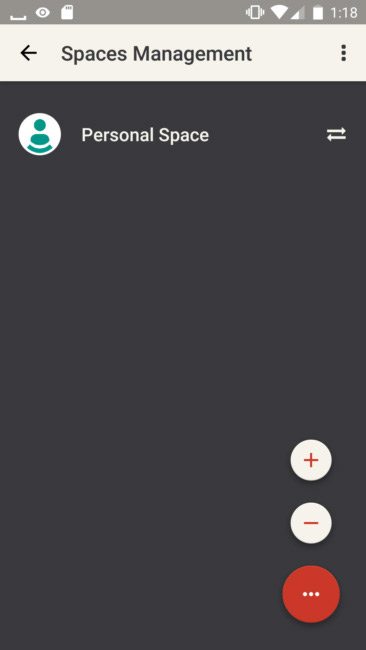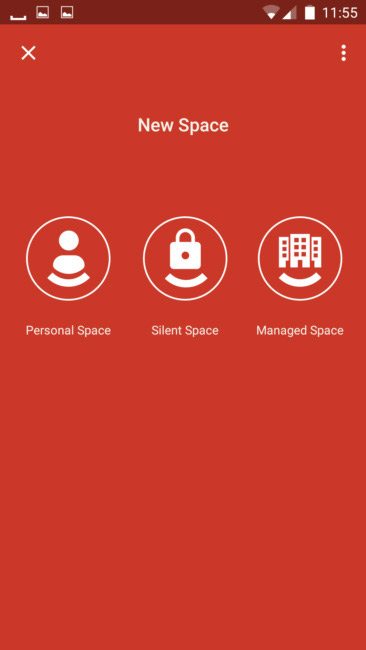 You'll be given three options: Silent Space, Personal Space, and Managed Space. If your employer has given you a QR code to scan for a Managed Space, tap Managed Space and scan the QR code to continue. Otherwise, select Silent Space or Personal Space — whichever type of space you'd like to create.
If you'd like to add a Silent Space, tap Silent Space; the Silent Space will be created and the process will be complete. (You can skip ahead to "Managing Spaces.")
If you select Personal Space, you'll be prompted to enter a name for the new space you're creating.You'll be asked to name your new Personal space. Type a name and tap Create.
If you have installed additional apps (beyond those that come with the Blackphone 2) in your owner space, you'll see a list of these apps. You can select apps from this list to automatically add to your new space; simply check any apps you would like to add and tap the check mark on the top right. (All of the apps that ship with the phone will be made available by default in the new space as well.)
If you're adding a new space to a brand new Blackphone 2, you won't see a list of apps; your new space will simply be created with the default apps on the phone.
Now that you've created a new space, move on to learn about Managing Spaces.