Protect what must be kept private with GoSilent
GoSilent is a secure communications solution that transcends legacy security architectures. GoSilent incorporates a next generation firewall, VPN and Intrusion Prevention System to provide a complete all-in-one IP security system for securing peer-to-peer or peer-to-many IP-enabled devices.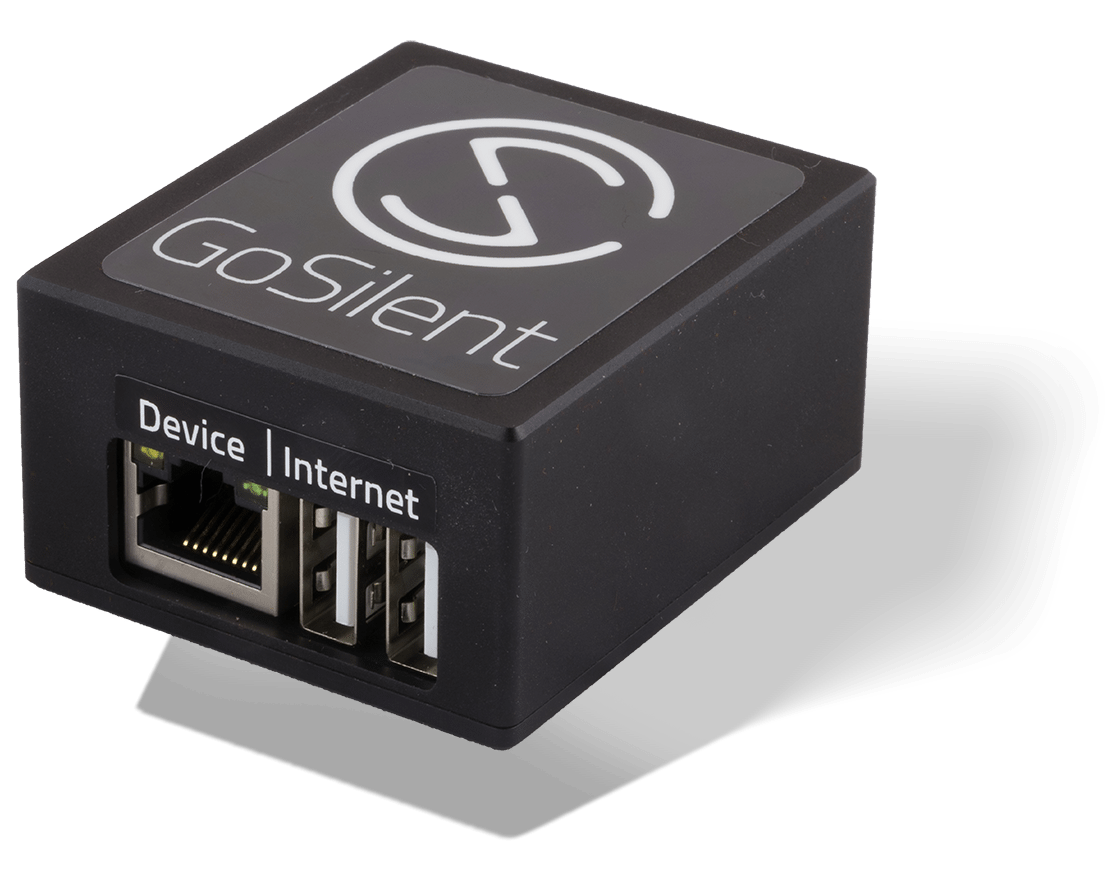 2.25" x 2" x 1"
The GoSilent appliance is truly portable.

Enterprise security in the palm of your hand
Slip this tiny device into your pocket, and you're good to go. Access the Internet anywhere and stay secure.
Protection for your mobile workforce
GoSilent safeguards you from threats that target your networks, information, and workforce when they are operating external to your networks and facilities.
Protect your IP-enabled IoT devices, mobile workforce and business assets from anywhere they access the Internet.
Your mobile workforce can work securely using any device, from any location (i.e. home, cafe, hotel, airplane) without data compromise, malware or device exploitation.
Key benefits:
Power

– Power your GoSilent with any USB port or even a standard battery pack.

Secure Captive Portal Authentication

– Instantly protect user devices from malicious access points, such as "Free WiFi" hotspots.

Next Generation Secure Access

– Easily secure user devices from network .attacks by invisibly enforcing use of enterprise-controlled firewalls and quantum-resistant, top-secret (TS) certified IPsec VPN with AES 256-bit end-to-end encryption.

Anonymization

– Maintain location security and anonymity by selecting and connecting through any active Silent Edge server location in the world.

Edge Intelligence

– Prevent network intelligence gathering, such as OS detection or port scanning. Stop

cyber-attacks

before they begin.

Advanced Threat Protection

– Prevent phishing, malware delivery and other advanced threats by blocking user network traffic to malicious sites.

Optimized User Experience

– Plug-and-play security is appropriate for both technical and non-technical users. No configuration required.

Application Visibility and Control

– Control thousands of different applications using application-aware policy enforcement to ensure business resources are employed appropriately.

Granular Auditing and Logging

– Integrate with SIEM solutions to meet compliance goals and reduce overall operational workload.

Easy Deployment

– Deploy from the cloud or on-premise. Optional self-provisioning automatically applies enterprise policies to any new device. GoSilent works with any IP-enabled device.
Your choice of deployment: hosted or server
GoSilent may be deployed with a Silent Edge cloud server or with the GoSilent Server. Using the cloud deployment a user can access Internet resources from an untrusted region in the world. GoSilent secures a connection to the Silent Edge cloud server (which resides in a trusted region) and creates a secure "IPsec tunnel". The user's online activities transmit through this secure connection to a region that is considered more trustworthy, before allowing those requests to hit the open Internet. This removes the possibility of the connection being hijacked in the untrusted region.
Enterprises interested in full control leverage the GoSilent Server. When using the GoSilent server, an enterprise can provide secure access to resources that are behind its enterprise firewall. As illustrated below, GoSilent secures a connection to the enterprise server and creates a secure "IPsec tunnel" inside the enterprise firewall. Users can securely access corporate resources without being exposed to attack over an open WiFi connection or open Internet. The GoSilent Server also securely communicates with IoT devices in the field. Once GoSilent secures a connection to the enterprise server and creates a secure "IPsec tunnel" inside the enterprise firewall, IP-enabled devices can then securely retrieve or send and store data behind the corporate firewall.

Easy
Plug-and-play functionality for any IP-enabled device.
(i.e. laptops, tablets, smartphones, loT, legacy devices)

Portable
GoSilent security and protection in your pocket, bag or briefcase and go.

Secure
Top Secret (TS) level cryptography provides next-generation encryption for your sensitive communications.
With the GoSilent Edge Protection Suite, you have a remote network access and defense solution that offers:
Advanced Threat Protection
Inspect all traffic for a wide range of threats. Detect and prevent exposure to malicious and phishing websites and reduce advertisement traffic.
Application Visibility and Control
Identify thousands of different applications to set up effective application-aware policy enforcement, plus support custom applications
Next Generation Secure Access
Top Secret (TS) level, quantum resistant VPN for privacy, plus protect users and the Enterprise from active and passive reconnaissance.
NIAP Certification & Common Criteria (CC)
Pending for 4 Protection Profiles: generic network device, firewall, VPN gateway, IDS/IPS (intrusion protection system).
Fully Extensible and Open Platform
Fully-functional REST API enables you to share and apply threat intelligence with existing solutions, integrate into existing management and reporting suites,etc.
Policy Management and Reporting
Maintain cyber situational awareness across your Enterprise through custom dashboards and reports, and easily remediate violations of your Enterprise policy.
Granular Auditing and Logging
Easy to consume network security events and log data to reduce workload on existing log management and SIEM solutions.
Work and live on the edge
For the first time, the enterprise can have visibility and control over protecting BYOD or corporate devices from wherever they access the Internet. GoSilent provides Top secret-level network security in an easy-to-use and endpoint independent way.
Network and security architectures of the past were designed for well-defined boundaries with limited access points to the Internet and other networks. Traditional network security is difficult to apply to the mobile security needs of today. Boundaries cannot accommodate changing architectures and the way users access corporate, mission, and critical productivity applications. GoSilent provides security and intelligence beyond the confines of your enterprise network.
download info
GoSilent was selected as a Gold Winner at the 14th annual ISPG awards in both the Best Security Hardware Product category and the Wireless, Mobile, or Portable Device Security category for boosting security and intelligence to go beyond the boundary of an organization's enterprise network. GoSilent provides each user with protection and visibility into threats that target their networks, information and workforce. Now the enterprise can have visibility and control over BYOD or corporate devices from wherever users are accessing the Internet. GoSilent inspects all network traffic for a wide range of threats in order to detect and prevent exposure to malicious websites.
GoSilent was honored with a 2018 InfoSec award, and was named the "Most Innovative Wireless, Mobile or Portable Device Security Solution". Data compromise causes immeasurable harm to businesses and their trusted partners and the need for encrypting or obfuscating internet traffic has escalated rapidly in recent years. By pioneering next-generation encryption for sensitive communications to businesses and governments, GoSilent has emerged on the market as a one-of-a-kind solution for safeguarding privacy across borders.
GoSilent competed as a finalist in The 2018 Last Gadget Standing Competition at CES. Addressing data in motion and data at rest is no longer an effective solution. There was a four-fold increase in the number of data records compromised in the first half of 2017 vs. 2016. GoSilent keeps your data and your communications private. Since you and you alone hold the encryption keys, there is no concern over your data ending up in the wrong hands.
Named one of the top tech gadget gifts for 2017 by Inc., GoSilent is perfect for any mobile worker or traveling executive. This pocket-sized mobile firewall protects against data breaches and communications leaks – it literally provides enterprise security in the palm of your hand.